With Genentech Gives Back week coming up, I find myself reminiscing about my sabbatical last year. After 26 years in Genentech's legal department, I decided to do something different for my fourth sabbatical. Inspired by Genentech's vision of helping others and volunteerism, I decided to give back. After a few weeks of "meet and confer," my family agreed on our destination: Mission Saint Therese in Gabon. Following vaccinations, visas, and stocking up on seven weeks of malaria tablets, the nine of us flew to Gabon.
I had rosy expectations of mission life: learning how to bake French bread in the Mission bakery, being trained to make local Gabonese dishes, and viewing hippos in the river. But actual mission life differed greatly from my visions. Take our first night — as I headed, towel in-hand, for the outdoor shower in the open-plan orphanage where we stayed, a medium-sized lizard flew off the roof and just missed landing on my head! And so much for developing my culinary skills. Instead, I was assigned to the work crew breaking up concrete with a pickaxe, hauling it for disposal in a wheelbarrow, carrying and pouring bucket upon bucket of hand-stirred concrete side-by-side with local and foreign volunteers together to build an extension to the Mission's medical clinic. While the work was long and exhausting, the good memories far outweigh the bad. I value the fun times with the cooks, Noelene and Yvonne, in the kitchen washing dishes, conversations and laughter during meal times with the French volunteers and Mission employees, playing soccer and volleyball against the children who attended the Mission's school, and swimming excursions to Lac Bleu. After five short weeks, our time at the Mission came to an end. Our final "Bingo Evening" was filled with laughter, tears, hugs, and promises to stay in touch with our friends in Gabon.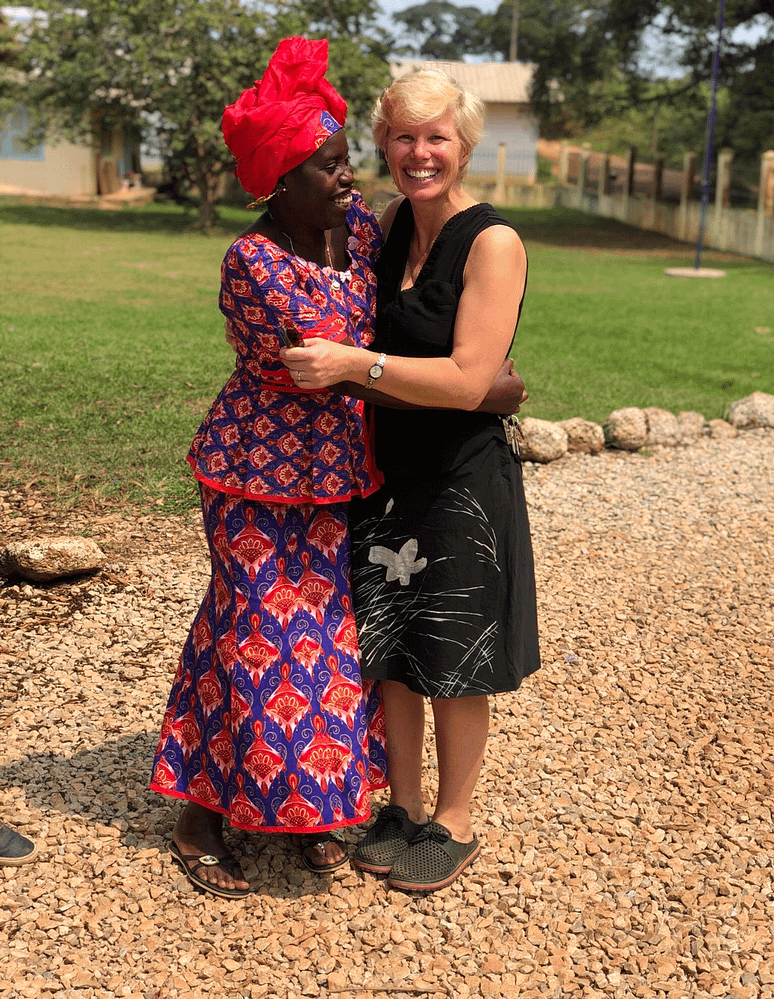 "My Bestie" at the Mission, Noelene, and me. Despite the language barrier, we communicated via hugs, laughs, and teaching each other French and English food vocab.
My family at the Mission in our tailored African outfits, from left to right: Peter (Virginia Tech, B.E., class of 2017, Royal New Zealand Air Force), me, Hannah (Marymount Nursing School, B.S.N., class of 2021), my husband Steve, Matthew (4th grade), Maria (UVA class of 2016, B.A. English and ESL, Teacher), Monica (8th grade), Teresa (UVA, B.A. Biology, class of 2020), and James (GMU, B.E., class of 2023).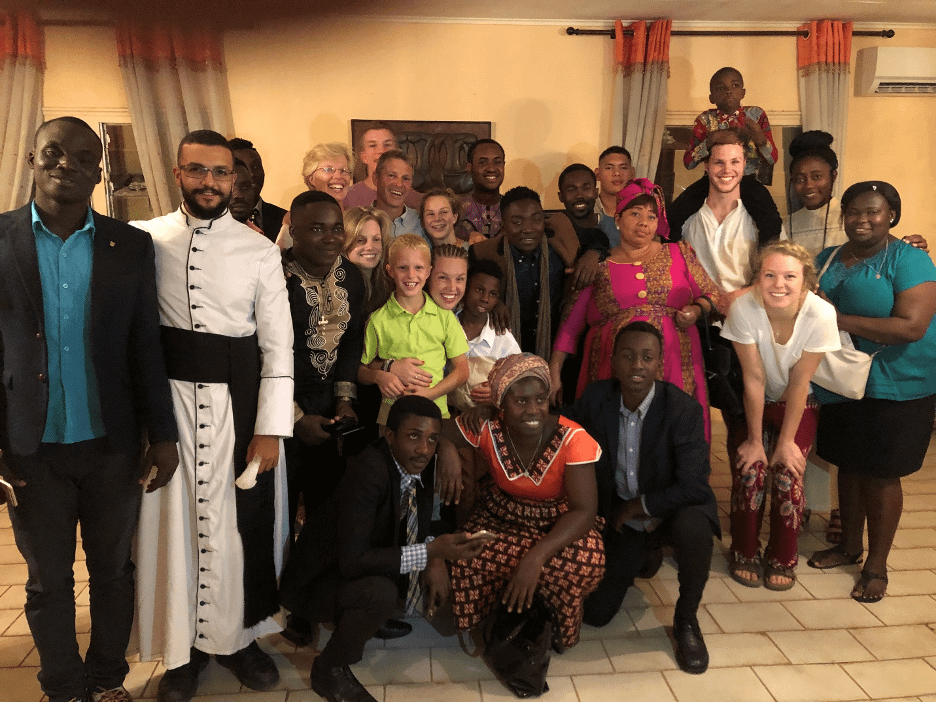 We treated the Mission employees to pizza at the local restaurant. They all dressed to the nines and spent the evening singing, laughing, and giving multiple rounds of appreciation speeches.
My youngest son Matthew and his two buddies: Francios and Marc Antoine (Noelene's son). They found their own language of communication via arm wrestling and daily soccer scrimmages.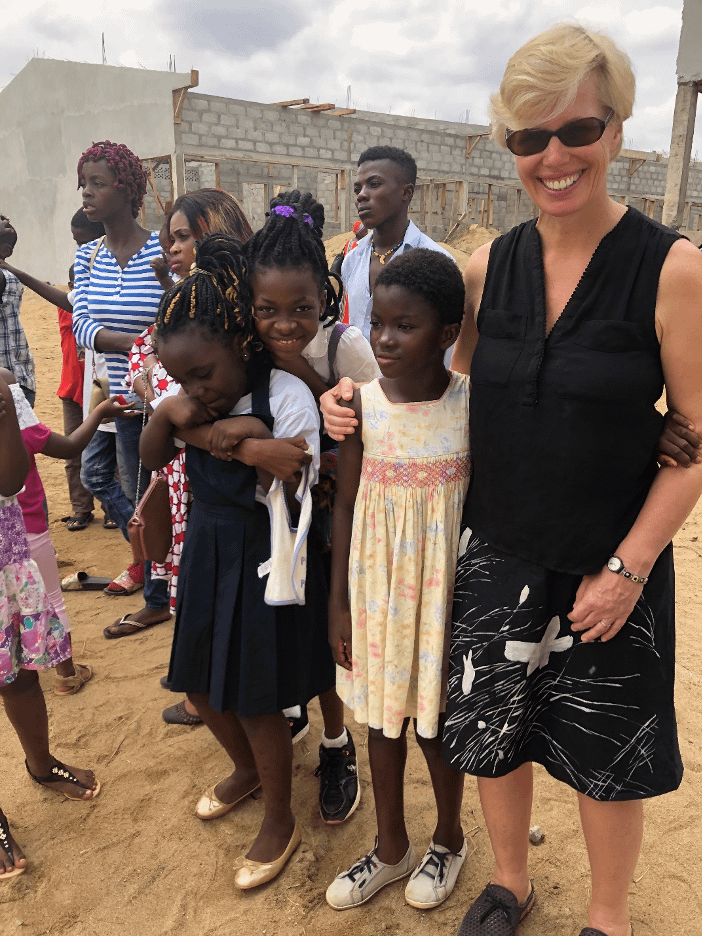 The Grand Opening of the library. The orphaned girl to my left took a liking to me, and always sought me out for hugs. I'll never forget her.
For anybody else considering an alternative sabbatical, I say, "Do It!" As Brother Abe at the Mission said, "Africa changes people." It's true. After returning home, we appreciate everything so much more and have a rewarding sense of accomplishment that comes from turning outward and giving back.
Wendy Lee works in Genentech's Patent Department and is happy to chat to anybody thinking about a "Mission Sabbatical": email: lee@gene.com, or cell: 650-225-1994.